Are you looking to fly Business class? Passengers can easily book their tickets easily by following a few easy steps. Turkish Airlines Business class has various in-flight amenities and onboard services.
Turkish Airlines is known for its comfortable seats, appetizing in-flight meal, and friendly service, that's why its not a surprise that it offers high-quality services in business class.
Read this blog thoroughly and learn about the things you can expect when flying on Turkish Airlines Business Class.
A Brief About Turkish Airlines Business Class
Turkish Airlines only offers two flight classes: business and economy. This places business class at their highest tier of travel, and it offers enough luxurious extras that it can simply seem like flying first. The most up-to-date in-flight entertainment and opulent amenities are available, but it's perhaps the 360-degree experience of Turkish hospitality at 30,000 feet that keeps frequent flyers so hooked on this airline. With handcrafted Turkish and international meals that sometimes make it feel like a restaurant with wings than a plane, their award-winning dining is enough of a reason to fly them.
Steps to Book Turkish Airlines Business Class
Passengers can easily book their Turkish Airlines business class by following the given steps:
First, visit turkishairlines.com and go to its homepage to start your booking process.
Afterward, select the business after clicking on the travel class option.
Once you give all the booking-related details, click on the Search button.
A list of available flights will be shown on your screen. Pick the best suitable Business class Turkish Airlines flights.
Once you select your flight, make the required payment.
Lastly, you will receive the confirmation mail in your inbox.
Things to Expect When Booking Turkish Airlines Business Class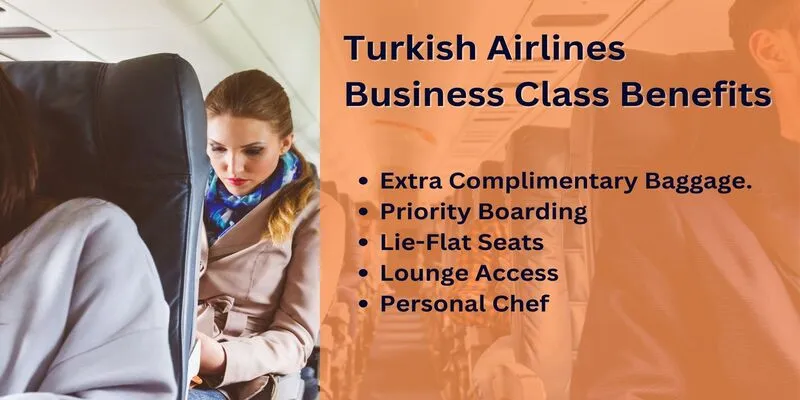 When flying Turkish Airlines business class 777, you often get stuff for free that you don't get when flying economy. The business class experience comes with extra luggage, fine dining, and lots of legroom.
Turkish Business Class Baggage Allowance
A glamorous night out might tempt you to bring along that third or fourth pair of shoes. Don't hesitate to overpack. Passengers traveling in business class on Turkish Airlines are allowed to bring 2 pieces of cabin baggage and check up to two pieces of luggage weighing a combined 70 pounds (32 kilograms) per piece.
Priority Boarding
No need to worry about competing for an overhead bin. As one of the first passengers in business class, you will have ample of time to settle in.
Lie-Flat Seats
What could be more convenient than taking a flight over the Atlantic Ocean in a seat that can be converted into a bed? You will enjoy a lie-flat experience in the airline's business class regardless of which plane you are on. On some aircraft, there are individual power plugs for charging electronics, noise-canceling headphones, and even massage chairs.
Aisle access is available from every seat on certain of Turkish Airlines' more recent aircraft, notably the 787 Dreamliner.
Lounge Access
Turkish Airlines' new lounge, which is a sight to behold, recently opened at Istanbul Airport. You can enter this sanctuary without charge as a business class traveler before takeoff.
Complimentary Wi-Fi, a sizable children's play area, free meals, including Turkish cuisine, and relaxing private apartments are all available there.
In the lounge, you can take a shower, refresh yourself, or tour the 1,400-square-foot museum that was developed in partnership with Istanbul Modern.
Personal Chef
A flying chef is yet another benefit of the business class trip on Turkish Airlines. A welcome drink will be served to you on transatlantic flights, and then a large selection of hors d'oeuvres and soups will be served shortly after. Your meal is created to your requirements and served on porcelain china. Turkish coffee and Turkish pleasure serve as the meal's finale.
Benefits of Flying Turkish Airlines Business Class
On all transatlantic flights, Turkish Airlines has wonderful lie-flat business class seats with connectivity to Europe, Africa, and beyond. Incredible new lounges featuring local specialties may be found on the ground, while a personal chef can prepare meals for you at 35,000 feet while you're in the air.
If you have a credit card that awards Citi ThankYou points/Capital One miles, which can be exchanged for Turkish Airlines miles, it will be simpler for you to earn Miles&Smiles miles, which can be difficult to come by. You might be able to earn enough miles with the welcome gift on the suitable credit card within the first few months of opening the card to pay for a business-class flight in Turkish.
Passengers can visit turkishairlines.com to know more benefits of flying business class.
Turkish Airlines Business Class Seats
The unique amenities of business class seats will help you to enjoy your trip even more.
Lie-flat seats with beds that open to a 193 cm width
Have fully adjustable armrests
Touchscreen seat controls
51 cm rotating and movable tray table
18I inches cocktail table "IFE screen with the movable inclination
IFE remote with touchpad and 4 "screen
Units with a universal power socket and USB charging
Privacy screens that can be altered
Exclusive mirror
Locked and closed storage
Individual reading light
Massage option
A flexible headrest
Suit hanger
Seat back comfort cushion
Cost to Upgrade Your Business Class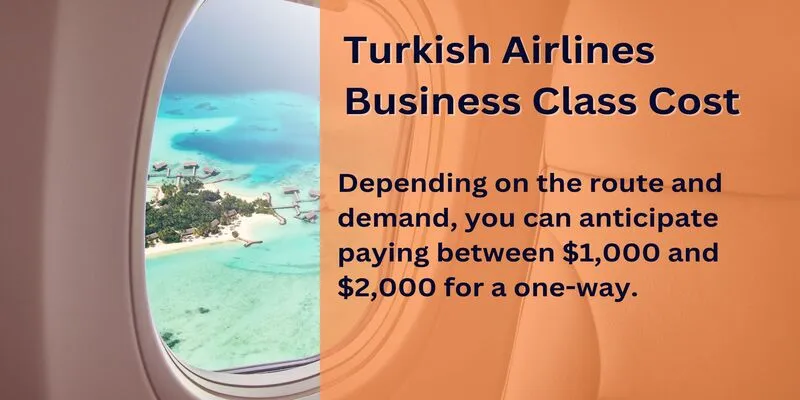 Passengers in economy class have the option of purchasing a business upgrade at the check-in desk or through the sales center prior to takeoff. In addition, passengers can also upgrade through the Turkish Airlines Manage Booking option. Typically, this is only permitted if a business-class seat is available.
Members of the Miles & Smiles program may upgrade their flights using saved miles; otherwise, a surcharge may apply depending on the flight. Depending on the route and demand, you can anticipate paying between $1,000 and $2,000 for a one-way transatlantic upgrade (still less expensive than purchasing business-class flight tickets).
See also: Turkish Airlines Name Change On Ticket
FAQs
Does Turkish Airlines have flat beds in Business Class?
Turkish Airlines Business Class includes fully flat seats and free pillows along with blankets.
How many seats are in a Turkish business class 777?
Turkish Airlines business class 777 has 49 Seats. All the seats are arranged in 2-3-2 Manner. The rear cabin have 21 Business class seats and front cabin has 28 business class seats.
How much does it cost to upgrade to business class on Turkish Airlines?
Any traveler can upgrade from an uncomfortable economy class seat to a luxurious business class seat for 25,000 miles plus a $350 roundtrip. If you have a flexible ticket, the cost is merely 15,000 miles, and there are no additional fees.
How do I upgrade on Turkish Airlines?
If you're a member of Miles&Smiles, you can upgrade your ticket to Business Class in order to take advantage of all its benefits. You must have a valid, purchased ticket for either Economy Class or Business Class that earns Miles & is for a confirmed reservation to upgrade to the next available flight class.
Can you upgrade to the airport on Turkish Airlines?
Before your flight, you can use the Last Minute Upgrade option at the check-in counters. You can change your ticket from Economy Class to Business Class only if there is a seat available and you have enough miles in your account.
Which Turkish Airlines planes have the new business class?
With all-aisle access, the Turkish Airlines a350 Business Class cabin offers moderate luxury with a silver/grey color design. Aisle seats are in rows 1/3/5/7, while window seats are in rows 2/4/6/8. Try rows 1/3/5/7 for the couple's seat in the middle.
Is the Turkish Airlines lounge free for business class?
Those that fly with Turkish Airlines or the Star Alliance Business Every traveler in business class is entitled to complimentary access to the Turkish Airlines Lounge.
You need to have a connection that lasts between four and nine hours and at least one of your flights must be longer than eight hours to use the sleeping rooms.
Do you get free drinks on Turkish Airlines?
Turkish Airlines offers complimentary beverages on all flights. On foreign flights, welcome drinks are really supplied prior to takeoff, and on transatlantic flights, beverages are provided with meals and in-flight snacks.