If you travel across Norway, Denmark, Sweden, and Scandinavia, the airline to follow is SAS Airlines. It is the flag carrier of Sweden and is trustworthy. The airline operates 182 flights all over Sweden to 90 destinations. Copenhagen-Kastrup airport connects 50 cities in Europe, and it is the airlines' central hub. Knowing about the SAS Airlines Baggage Policy before heading for the trip is a plus point. It will make your journey smooth and easy. Here you will learn everything about the airlines and the policies it provides to the passengers. Knowing about the various baggage fees before booking the flight will be great.
SAS Airlines Baggage Policy – Allowance, Size & Weight Restrictions
Two types of bagging come under the baggage policy. These baggage types vary when it comes to charges and quantity. Let's dig in more for a better understanding and broad vision.
Carry-On Baggage Allowance
Each passenger can take one carry-on bag and one personal item (handbag, backpack, briefcase). Outer garments and assistive devices don't come under carry-on baggage. The size of carry-on luggage must fit in the overhead bin and under the front seat.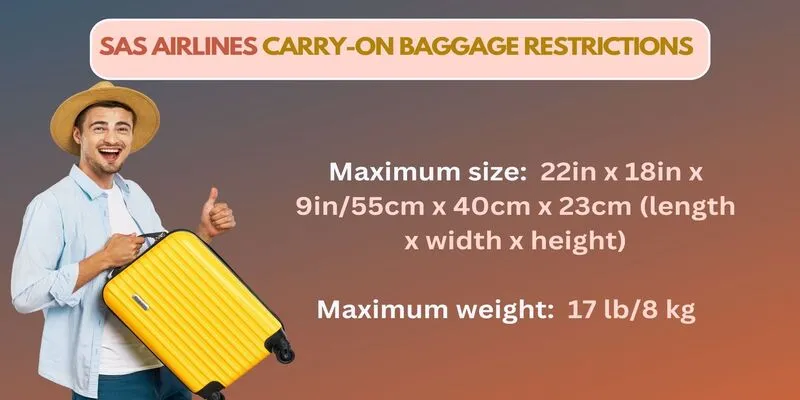 Maximum size: 22in x 18in x 9in/55cm x 40cm x 23cm (length x width x height)
Maximum weight: 17 lb/8 kg
The carry-on bags that follow the requirements come under acceptable baggage. These guidelines come under the SAS Airlines Baggage Policy.
Checked Baggage Allowance
SAS airline has revamped domestic and European service classes, replacing the economy, economy extra, and business with two new products: SAS Go and SAS Plus. The difference is that passengers traveling with SAS Plus can take one additional checked-in baggage free. They need to follow all the requirements of checked baggage allowance. The quantity and weight of the baggage depend on the type of ticket you made the booking. Refer to the table here to know how much baggage you can take for free.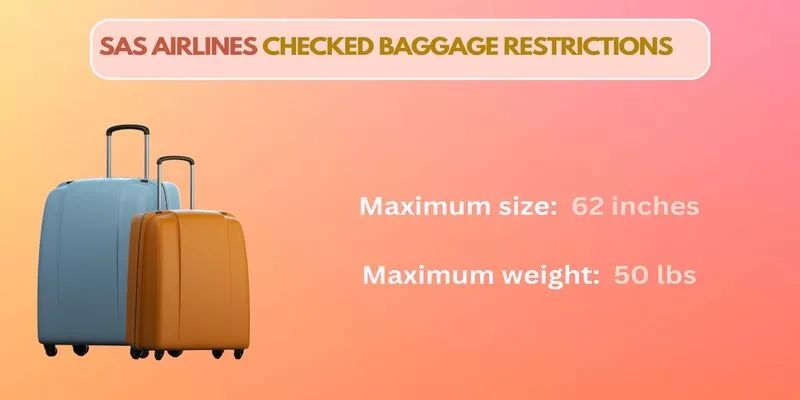 Ticket type
Weight
Dimension
(length+width+height)
SAS Go
1 baggage x 50 lb/23 kg
62 in/158 cm
SAS Plus
2 baggage x 50 lb/23 kg
62 in/158 cm
SAS Business
2 baggage x 50 lb/23 kg
62 in/158 cm
SAS Airlines Checked Baggage
You can take one checked-in baggage for free whenever you travel with SAS. The airline requests you put a name tag on your bag so that it is easy for them to relocate it. SAS Airlines Baggage Rules cover these points for checked-in baggage.
Flying With Special Items – Sports Equipment & Musical Instruments
Carrying sports equipment costs extra because of its size, fragility, and weight. It is advisable to contact the SAS directly without any further delay. There will be no acceptability if a sports or musical instrument size exceeds 158 cm. It is advisable to make an early request to secure the space for the instruments. If you want to add an extra special bag, you need to contact the airline's customer service 24 before departure.
Maximum size: 158 cm (length + width + height) , including handles and wheels
Maximum weight: 32 kg
The weight and size of the special item should be within the set limits under the SAS Airlines Baggage Policy.
Baggage Items Restricted By SAS Airlines
You are advised not to carry a few dangerous items on board. The security officer will seize things they feel are hazardous on board at the security check. Due to this, carry-on and checked-in bags undergo security inspections at the airport. Let's see what items come under prohibition at the airport check-in.
Sharp edges and a sharp pointer can cause injury on board.
Consumption of electronic cigars and cigarettes comes under the prohibition on board.
Flammable, corrosive, radioactive, or oxidizing items are prohibited from being carried on board.
Lithium batteries are also prohibited and will be seized at the security check.
Import and export of food or eatery items are restricted at the airport.
SAS Airlines Baggage Fees – Overweight, Oversized, or Excess Bag Charges
The distribution of SAS Airlines baggage fees takes place in three ways. The first is baggage fees for overweight baggage, the second is oversized baggage, and the third is for excess baggage. Let's start with one by one explanation of each type of baggage.
Baggage Fees For Overweight Bags
23.1-28 kg (51-62 lbs) – EUR 35-55 / USD 40-65 / DKK 250-400 / NOK/SEK 350 – 550. (For carry-on bags)
28.1-32 kg (62-71 lbs) – EUR 60-110 / USD 70-130 / DKK 440-800 / NOK/SEK 600 – 1100. (For checked-in bags)
If the weight of the baggage exceeds the weight limit of 32 kg, the charges will increase per piece. You must maintain your baggage's limit so it doesn't come under overweight baggage.
Baggage Fees For Oversized Bags
Baggage exceeding the size limit of 158 cm comes under oversized bags. The charges will be a flat rate fee per one-way. The fee applies per bag, depending upon the route and destination.
Domestic: 350 DKK, 450 NOK, 450 SEK, 45 EUR, 50 USD
Scandinavia / Europe: 510 DKK, 690 NOK, 690 SEK, 69 EUR, 80 USD
Flights to/from Asia, Canada, and the US: 790 DKK, 1090 NOK, 1090 SEK, 109 EUR, 125 USD
Ensure that your baggage's size doesn't exceed the limit under the policy; otherwise, you have to face extra charges per bag. The costs vary from domestic flights to international flights.
Baggage Fees for Excess/Extra Bags
Depending upon the SAS Airlines Baggage Policy, you must pay extra for every extra baggage.
Passengers can take only 9 pieces of baggage while traveling by SAS Airlines. If you are traveling with excess baggage, fixed charges will be applicable per piece of the bags. The baggage fee will be charged on one-way travel with SAS.
Passengers can pay for their excess baggage either online check-in or at the self-service counter at the airport.
Additional checked bag (max. 23 kg):

Online, up to 24 hours before departure – EUR 20-105 / USD 25-119 / DKK 170-570 / NOK/SEK 195 – 690.
Less than 24 hours before departure at the airport – EUR 55-105 / USD 65-119 / DKK 450-830 / NOK/SEK 540 – 990.
These are the Scandinavian Airlines' extra baggage costs when you take oversize, overweight, and excess bags.
How To Add Baggage To SAS Airlines Flight Bookings?
There are two methods using which you can add extra baggage to your booking within 24 hours of departure.
Add Baggage To SAS Airlines Bookings Online via Manage Booking
You can add extra baggage by visiting the SAS Airlines Manage Booking page.
At the time of online booking:
Click on step 4, i.e., extra, and select add bags.
Now choose the type of checked baggage in the drop-down menu.
Then add or save to your booking.
After the time of online booking:
Enter your reference number or ticket number.
Select add baggage
Select the type of baggage in the drop-down menu.
Now add or save to your booking.
Request More Baggage at the Airport or via Phone Call
You can add extra baggage after booking by contacting a live representative or by visiting the airport customer care counter 24 hours before check-in.
Give your reference number on the boarding pass and the confirmation mail to customer care.
Inform them about the number of extra baggage you want to add.
Sign the accessibility to add the extra baggage, and you are ready.
SAS Airlines Baggage Policy for Damaged and Delayed Bags
The airline tries to fix all your problems and provide you with the bags with care. Sometimes, things don't go the unusual way, and your bags get delayed and damaged. To fix such issues, you must follow a few steps this way;
What To Do If SAS Airlines Damaged Your Bags
Suppose your bag gets damaged after arrival at the airport. Bring it to the SAS Airlines baggage service. The damages will be reviewed and investigated by the Baggage service officials.
If you provide the report to the officials, the representative will give you a property irregularity report (PIR). It is essential to receive a copy of the Proper Irregularity Report from the officials. You have to do it by presenting at the airport.
If unavailable, you must return to the airport to recover your damage. The airlines will not accept damage recovery if not found at the airport. If you haven't filled the claim within seven days of damage recovery, the airlines will not accept it.
PIR is not a claim report. You must write a claim report separately, which you will send to customer service along with the PIR number.
What To Do If SAS Airlines Delays Your Baggage
You must buy some essential items if your baggage delay is more than 24 hours. The airline will reimburse you for the costs within reasonable limits.
The reimbursement depends on the clarification of all the respective documents. It is essential to preserve all the receipts concerning your delayed bags.
You have to submit your claim online to receive a reimbursement. You must include receipts of all expenses and PIR.
If your baggage is delayed at the airport, you can access essential items. SAS doesn't cover any cost in such cases. You will be paid at settlement in a few instances where you lose your inner bag essential.
Further details on delayed, lost, or damaged baggage guidelines can be found on SAS Airlines Baggage Info page.
Frequently Asked Questions – SAS Airlines Baggage Policy
Is SAS strict with hand luggage or not?
SAS Airlines allows only one carry-on bag on board, and on high-class flights, baggage quantity turns to plus 1.
Dimension: More than 22 x 16 x 9 inches (55 x 40 x 23 centimeters)
Weight: 17.6 pounds (8 kilograms)
How many bags can you check on SAS flights?
The Checked Baggage allowance of SAS Airlines is as follows:
SAS Go SAS Plus SAS Business
Weight: 23 kg 23 kg 23 kg
Quantity: 1 bag 2 bags 2 bags
Dimension: 158 cm 158 cm 158 cm
What is the acceptable weight on SAS?
The acceptable weight on a SAS flight is 32 kg (maximum), and an extra fee imposes on bags weighing more significant than 23 kg. The maximum size you need to follow is 158 cm.
What is the meaning of 2 PC on the flight ticket?
If the flight ticket has the marking of 2 PC, there is an allowance of taking 2 pieces of baggage on the flight.
Can I bring a backpack and a carry-on bag on the SAS flight?
There is an allowance to bring one carry-on bag maximum weight of 8 kg and a handbag or a laptop bag of 158 cm.
What is the limit of the carry-on bag?
The carry-on bags must weigh less than 40 pounds. The consideration of baggage must be under 40 pounds, not exceeding.
Does a carry-on bag charge more on a SAS flight?
You are free to bring an under-seat bag and a carry-on bag after following the requirements under the baggage policy on SAS flights.
How many bags can you check internationally?
The SAS international flights allow one or a maximum of 2 pieces of baggage on board. The luggage should follow the requirements under the baggage policy.
Does bring food on board allowed?
There is an allowance to bring your food on board if the food you carry follows the safety regulations regarding carry-on bags. You never know if any passenger might suffer from allergies, so avoiding bringing peanuts or crackers on board is better.
SAS Airlines Baggage allowance for overweight baggage?
Weight: 23 to 28 kg- EUR 35-55 / USD 40-65 / DKK 250-400 / NOK/SEK 350 – 550.
Weight: 28 to 32 kg- EUR 60-110 / USD 70-130 / DKK 440-800 / NOK/SEK 600 – 1100.
What should be the dimension of the under-seat baggage?
The dimension of the under-seat baggage is 18 x 14 x 8 inches. It is valid for all cabins and flights.
Does SAS Airlines provide blankets to the passengers?
Yes, you are provided with blankets, pillows, snacks, and beverages on the flight. You will be offered meals, headphones, eye masks, etc. There are TV screens on every seat.