A perfect flight class is one that assures you a completely comfortable journey that's why most passengers prefer to travel with Air France First Class. Whether you are planning for a long-haul trip or a short trip, One-way or Round-trip, Air France la Premiere First Class will serve you the wider lie-flat seats with extra legroom, complimentary meals, alcoholic and non-alcoholic drinks, an Amenity Kit, and much more. If you want to book a flight in this cabin class then check out the complete guide to know everything related to your query.
Complementary Services In la Premiere Air France First Class
La Premiere Lounge
Well! Air France first class lounge is just available for a limited number of passengers traveling with first class. la Première lounge offers you more comfortable seats and other amazing services such as Body & facial treatment, newspapers, magazines, spa space, complimentary drinks, snacks, etc.
Priority Check-in & Transfer Straight To The Plane
Air France la Premiere First Class Passengers will be able to avail of the priority check-in service. When you reach the airport, one of the airport staff will take your bags from you and send them for checking. After that, you have to go to the check-in area with your carry-on luggage. When you complete the checking process then you will be transferred into the vehicle that will send you to the flight directly.
La Première Air France First Class Seats
In the Boeing 777-300ER of Air France la premiere, there is a total number of 4 different suits available sets in a 1-2-1 layout in a single row. The length of each seat is 78 inches and the width is 30 inches. Passengers can transform their seats into lie-flat. The crew will make your seat with a foam mattress and soft pillows.
Air France la Premiere Meals
Desserts
Chocolate souffle
Black truffle-toasted sandwich
Seared cod
Shrimp salad
Pumpkin soup
Duck foie gras
Chicken with mushrooms
Grilled slice of black pudding
Cheeses
Praline chocolate
Comté cheese
Complementary Beverages In Air France First Class
French white & red wines
Louis Roederer Champagne
Mocktails
Cocktails
Soft drinks & spirits
Air France First Class Menu of Amenity Kit
Hand cream
Lip balm
Moisturizing cream
Antifatigue eye patch
Pair of slippers
Pair of socks
Cotton bathrobe
Air France LA Premiere First Class Price
You better know that fares are charged according to distance, class, trip type, etc. If you want to fly in Air France Premiere First Class, you will have to pay $9,000 for a one-way ticket. Passengers need to pay more for a roundtrip. Also, if there is a discount available, it may cost you half of the one-way trip price.
Air France First Class La Première Baggage Allowance
Air France La Première First Class passengers are allowed to carry a total number of 3 checked baggage.
The dimensions of the checked baggage should match 158cm in total
The weight of checked baggage should not exceed 32kg each.
Carry-on luggage should not exceed 40 lbs.
The dimensions of carry-on luggage should be under or equal to 55 cm x 35 cm x 25 cm.
Accessory items under the carry-on luggage policy should be under or equal to 40 cm x 30 cm x 15 cm.
If you want to add more baggage to your reservation online then you have to navigate to the Air France Manage Booking section.
Step-by-Step Guide To Book A Flight In Air France First Class
Through Air France Official Site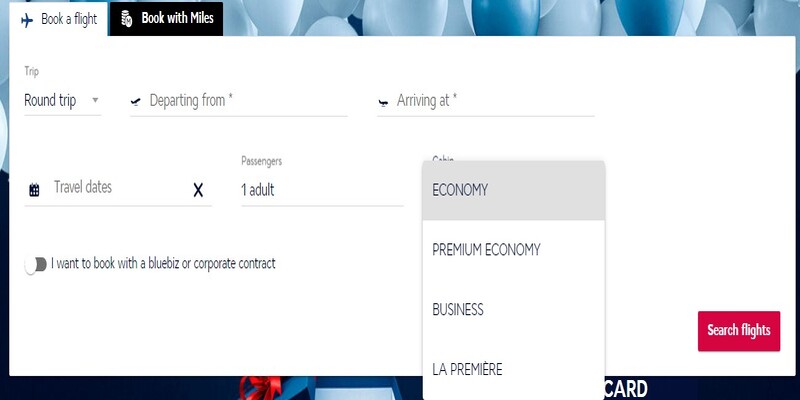 Search for Air france official site.
Choose the trip type as per your requirement.
Fill up the departing from and arriving at locations.
Click on the continue button.
Fill up the travel dates.
Choose the number of passengers.
Select the "LA PREMIÈRE" in the Cabin class option.
Tap on the search flight button.
Choose your desirable flight and pay the required taxes and fees.
After booking a flight, if you want to make some changes online, you can visit the Air France Manage Booking section to make changes with no extra charges.
Via Talking To A Live Person At Air France
Dial 1-800-AIR FRANCE.
Choose the preferred language.
Listen carefully to the IVR menu.
Press the correct key to connect on a call with a Live person at Air France.
Ask for the reservation, send the valid documents, and pay the required charges.
IVR Voice Menu
Press 1 To Book A Flight.
Press 2 For Check-in & luggage info.
Press 3 for change & cancellation.
Press 7 to talk to a Live Person At Air France.
Frequently Asked Questions
What is La Premiere class on Air France?
Air France First Class is configured in a 1-2-1 layout. It will give you complete privacy with curtains attached to each seat. The passengers will get the most comfortable journey by having more space, as the seat dimensions are larger in comparison to the other Air France cabin classes. Additionally, your journey will become even more amazing when you take advantage of on-demand dining.
How expensive is LA premiere?
The LA premiere will cost you around $5,000 to $10,000. There is also a condition with booking Air France award flights: you need to fall into top-tier elite status in the loyalty program. If you change the route of your flight, the airline will charge you the fare difference, which is a must-pay. Also, there will be no charge for availing of the premium amenities in the lounge or on the flight.
Does Air France A350 have LA premiere?
No, A350 was retired by Air France. The first class is available in Boeing 777-300ER. Also, some of the Boeing 777 isn't yet upgraded to have LA premiere seats. On a few of its Airbus A350-900 aircraft, Air France is expected to add La Premiere First Class. 38 A350s are now on order for Air France, with 11 already part of the fleet of the French flag carrier.
How many LA premiere seats are there?
There are only four seats available in the LA premiere cabin. Air France is operating 19 flights with first-class seats. This is one of the most exclusive offerings by Air France. While enjoying the journey, you can turn your seat into a flat bed on which you can lay down and get some rest.
How do I access La Premiere lounge?
If you have a La Premiere ticket, when you go to the airport, you'll be transferred in front of Terminal 2E, next to Gate 14. When you reach the airport, you just have to show your pass, and then the airport staff will take your luggage from you to take care of that. You will be transferred into the lounge by the other staff, where you can relax on lie-flat seats and enjoy all of the premium amenities.
Can I pay to get into Air France lounge?
If you are purchasing lounge access, you will have two options, which are Paris-Charles de Gaulle and Paris-Charles de Gaulle. You can purchase one of the given lounge accesses online and offline. You will not be able to purchase it on the day of departure, so you need to do this until one day before the scheduled flight.
Can you upgrade to LA Premiere?
The great advantage of booking tickets with Air France is that you can upgrade your flight ticket to LA Premiere even at the last minute. This can be done online via the official Air France website or offline via the airport counter with the assistance of a live representative. You just have to pay the fare difference to upgrade, and no hidden charges are required.
Who can access La Premiere lounge?
A passenger who has flown on a La Premiere flight at least once in the previous year is eligible to use the La Premiere Lounge. Also, the passenger must have travelled in business class or first class on the Air France flight. Economy passengers are not eligible, but they can purchase other lounge access online or at the airport by paying some amount.