If you are planning to fly with Silver Airways, then it becomes necessary to become familiar with its policies. It will help you to fly without any hassle. Among many policies, today we will be discussing Silver Airways Baggage Policy. We will cover the dimensions, weight restrictions, eligible items, excess baggage fees, and much more. We will also cover the Silver Airways military baggage policy. Let's dive into the details so that you can avoid any surprises.
Silver Airways Baggage Policy – Carry-On, Checked, Extra Bag Rules
When it comes to air travel, a passenger's baggage can be classified into two categories – Carry-On and Checked Baggage. Carry-On baggage refers to the baggage items passengers are allowed to bring onboard with them. On the other hand, checked baggage refers to the baggage that you must check in at the baggage desk. If your baggage exceeds the allowance, size, and weight restrictions, the baggage shall be counted as extra or excess baggage. Silver Airways shall charge you a fee for such extra, overweight, or oversized luggage. Read further for details on the silver airways baggage policy.
Carry-On Baggage Allowance – Cabin Bag & Personal Item
On Silver Airways, passengers have to follow the following rules for carry-on bags. They can bring
One carry-on/cabin bag.
One free personal item.
However, due to limited overhead space, Silver Airways strictly says that carry-on/cabin bags should fit in the overhead compartment. However, in SAAB aircraft, there is no overhead compartment. So, before boarding, a valet will check carry-on luggage at the gate. When the flight lands, the luggage will be given back to the passenger at the gate area.
One of the USPs of the Silver Airways flight is that it doesn't have any weight limitations on carry-on bags. However, it should fit in the overhead bin.
The personal Items include, but are not limited to:
Briefcase.
Handbag.
Small Backpack.
Camera / Camera Case
Lady's purse.
Diaper bag
Pet in a container that can fit beneath the seat.
The personal item does not include
Umbrella.
Jacket.
Hat.
Food to be consumed onboard.
Duty-free products.
Approved medical devices.
Assistive equipment (wheelchairs, walkers, crutches, strollers, etc.).
Child restraint seats.
Service animal.
Carry-On Baggage Size & Weight Restrictions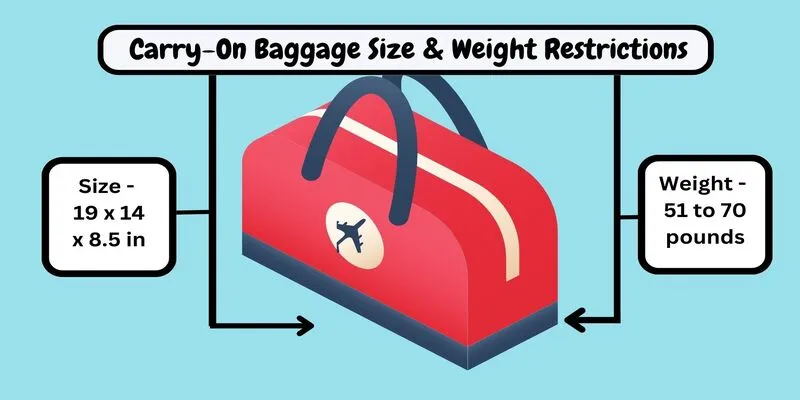 The passenger willing to bring a carry-on bag must adhere to the size restrictions. The size of the carry-on bag should not exceed 41.5 linear inches (19 x 14 x 8.5 in) or 105.5 centimeters. Moreover, it should fit in the overhead bin or beneath the seat in front of you.
On the other hand, the personal item must measure less than 8″H (20 cm) x 10″ W (25 cm) x 17″ L (43 cm).
Checked Baggage Allowance – How Many Checked Bags Are Allowed For Free?
Silver Airways do not offer a free checked baggage allowance. The passengers have to prepay for their checked baggage. The passengers can purchase 2 baggage while booking their seats.
The maximum limit of check-in baggage per traveler is ten bags.
You can pay for additional checked baggage during check-in, but Silver Airways only accepts them on a standby basis. This implies that the airline is unable to guarantee that the additional checked luggage you check in after the first two will be transported on your aircraft. Your extra luggage will be transferred on the next flight if there is not enough room in the plane's hold. When your bags reach the airport of your choice, Silver Airlines will notify you. You have to pick them up at the airport by yourselves.
Weight & Size Restrictions For Checked Baggage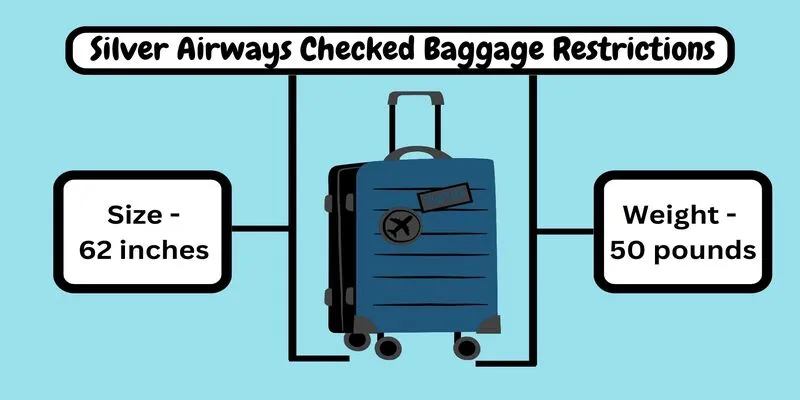 The baggage should not exceed 23 kg or 50 pounds per bag. However, if the weight of the baggage is beyond the limits, passengers have to pay overweight baggage fees.
On the other hand, according to the Silver Airways baggage policy, the usual dimensions of a bag that passengers can carry are 157 centimeters, or 62 inches (length + width + height).
Moreover, checked baggage that exceeds 115 linear inches cannot be accepted by airlines.
Silver Airways Checked Baggage Fee – How Much Does Check-In Baggage Cost?
The price for the first luggage may cost up to 39 USD for online booking if you are flying internationally, while it costs about 30 USD if you are flying domestically. You have to pay $5 more if you buy luggage at the airport.
On domestic flights, the cost of the second piece of luggage is 40 USD. On the other hand, for foreign flights, the cost is 49 USD.
The baggage fees may fluctuate depending on the route. However, the maximum baggage fees, even in the high demand, go to $55.
The airlines will charge you $100 for each additional hold bag, whether it is a domestic or international flight.
The cost of every checked bag is assessed per bag, per passenger, and one-way.
There are no refunds for checked baggage booked online at the time of booking or through the reservations center.
Baggage Items Restricted By Silver Airways
Silver Airways is very strict regarding its baggage policy. It does not allow the following items as personal items, carry-on bags, or checked bags.
Radioactive material.
Paint.
Corrosive or oxidizing materials.
Poisons.
Tasers.
Flammable liquids.
Liquid Nitrogen.
Torch Lighters.
Personal air purifier.
Charges For Excess Baggage – Overweight and Oversized Bag Fees
As we have already discussed that for each additional bag, apart from the two bags, passengers have to pay $100. Moreover, there can be scenarios when the baggage exceeds the size or weight limitations. However, passengers can still fly with them by paying additional charges. Baggage service fees for overweight or oversize luggage, as well as fees for more than two bags, cannot be paid online and must be paid at airport check-in.
| | |
| --- | --- |
| Criteria | Excess Baggage Fees |
| Overweight Bags(51 – 70 lbs / 62 linear inches) | Extra $50. |
| Overweight Bags(71 – 100 lbs / 62 linear inches) | Extra $100 |
| Oversized bag (63-115 linear inches) | Extra $100 |
Silver Airways Excess Baggage Fees
Silver Airways does not allow luggage weighing more than 100 pounds or 45 kilograms to be checked in as luggage.
Silver Airways Military Baggage Policy
If U.S. military personnel opt to fly with Silver Airlines, they can enjoy unique privileges. However, this free allowance does not apply to a military passenger's spouse or dependant, in contrast to many other U.S. airlines.
Each active military personnel can bring one personal item and one carry-on bag.
Two free checked baggage is available to active-duty military members who are traveling on official business. There are no charges for the first two bags.
The weight and size limits for each of these complimentary bags are 70 pounds and 62 linear inches, respectively.
If the baggage exceeds the weight, the airlines cannot accept it.
Excess baggage fees will be charged if the number of checked bags exceeds these restrictions or if additional bags are bought.
Traveling With Sports Equipments On Silver Airways
Sports goods are handled the same as any other checked item and are subject to any relevant overweight service fees. According to Silver Airlines' luggage policy, sporting goods, including golf bags, hockey, skis, fishing gear, and lacrosse equipment, are permissible. Size and weight restrictions apply according to the Silver baggage policy.
Hence, if your surfboard, dive equipment, fishing gear, etc., exceeds the 62 linear inches or 50 lb weight limits, you will have to pay excess baggage cost. But airlines won't accept sports items greater than 84 inches in length.
How to Add Baggage in Silver Airways Bookings?
You can add more baggage to your booking online via the Silver Airways Manage Booking facility. If you fail to add the baggage online, you can do it later at the airport counter. Here are the quick online steps to add the baggage to your Silver Airways flight itinerary.
Firstly, visit the Silver Airways website.
Go to the manage my trip option.
Enter the booking confirmation number and the last name.
After that, click on the search button to fetch the flight details.
Choose the add baggage option.
Enter the number of bags you are willing to bring.
Also, enter any special item you are bringing, like sports or musical equipment.
Provide the oversize or overweight baggage information.
Pay the baggage fees plus any excess charges.
You will receive a mail confirming the modification.
Frequently Asked Questions
Does Silver Airways charge fees for checked baggage?
Yes, Silver Airways charges fees for checked baggage. Unlike other airlines, passengers do not have a standard free baggage allowance on Silver Airways. They have to prepay for bringing baggage.
What is the standard checked baggage allowance on Silver Airways?
Silver Airways allows two paid checked baggage allowances per passenger. However, when the number of baggage exceeds, they have to pay additional baggage charges.
How many bags can passengers check in on Silver Airways?
Silver Airways allows a maximum of 10 checked baggage per passenger. However, the passenger has to pay additional baggage charges. Moreover, the baggage will be sent to the passengers on the next available flight due to limited cargo space.
What is the maximum dimension of the check-in baggage on Silver Airways?
The maximum dimension of the check-in bags that travelers can carry is 157 cm or 62 inches. However, in any case, the airlines do not accept baggage greater than 115 linear inches or 292 centimeters.
Does the Silver Airways check baggage fees refundable?
No, the check-in baggage fees are not refundable. Checked baggage purchased online at the time of booking or at the airport counter is non-refundable.
What is the Silver Airways carry-on baggage policy?
Silver Airways allows passengers to bring one personal item and one carry-on bag in the cabin. There are no weight restrictions. However, the size of the personal item should not be more than 8 x10 x 17 inches, and for the carry-on bag, it should not exceed 19 x 14 x 8.5 in.
What is the maximum weight limit for check-in bags?
On Silver Airways, passengers can bring check-in bags weighing 23 kg on standard charges. However, the maximum weight limit is 45 kg. Baggage weighing more than 45 kg is not acceptable on Silver Airways.
Does Silver Airlines charge for carry-on items?
For ordinary basic prices, the following is the luggage policy for Silver Airways.
One personal item – free of charge.
One carry-on or cabin bag – free of charge.
What are the Silver Airways overweight baggage fees?
When the weight of the baggage is between 51 – 70 lbs, passengers have to pay an additional $50. However, if the baggage weight is between 70 – 100 lbs, they have to pay an extra $100.
What is the baggage policy for military personnel on Silver Airways?
Silver Airways' baggage policy for active military members allows bringing two checked baggage for free. However, it is not applicable to their dependents. The size and weight criteria remain the same.
What is the Silver Airways policy for musical instruments?
Silver Airlines accepts musical instruments that are not larger than 150 linear inches and not heavier than 165 pounds (75 kilograms). The fees will include the standard and excess baggage costs.
How much do I have to pay for additional baggage on Silver Airways?
Silver Airways charges $100 for bringing additional baggage. So, if you check a third, fourth, or fifth bag, you have to pay $100 each.