If you plan to go on a trip or vacation, you can't miss out on EasyJet and its baggage policies. The EasyJet airline covers around 30 countries. EasyJet baggage policy is an affordable and low-cost policy. Without a second thought, you can plan a trip with the airline and enjoy the baggage policy. Now let's hop on the baggage policies it provides for the smooth conduct of your journey. It's time to discuss the baggage policies for checked and carry-on baggage.
EasyJet Baggage Policy – Carry On & Checked Luggage
The distribution of EasyJet Baggage Policy varies for checked and carry-on baggage. Let's dive through the topic for a better understanding. Here you will learn about the outlays for all types of bags.
Carry-on Baggage Allowance
People traveling with EasyJet Airlines can take one carry-on bag. The dimensions must be 56 x 25 x 45 cm. The extra charge of 40 Euros will be applicable if the bag exceeds the dimension criteria.
You can get the advantage of spacious flights by not paying extra fares for the carry-on bag.
Ensure your baggage doesn't exceed the dimension criteria, or you will pay an extra fare.
Travelers to Italy: The carry-on bags of passengers to and from Italy need permission to keep the bags in the overhead lockers on all flights and can keep them under the front seat. The dimension criteria you need to follow are 45 x 36 x 20 cm.
Checked Baggage Allowance
Here you can book 3 checked bags per head. The standard weight is 23 kg, and you can find an alternative with 15 kg. The option is only available on an online platform. The maximum size is 275 cm for the checked bags.
You are free to book the checked bags online or at the airport. The online cost depends on the travel season and route, 9.49 to 42.49 Euros. The charges rise to 40 Euros at the airport, and at the boarding gate, it gets 50 Euros.
If you exceed the weight limit, you must pay an extra fare up to a maximum of 32 kg.
Travelers to Itlay: The dimension criteria for checked bags is 275 cm, and the weight limit is 20 kg. Online platforms' fees or fares for checked baggage are 9.49 to 42.49 Euros. The fare for checked baggage at the boarding gate is 50 Euros.
Baggage Policy For Special Items
Sports item check-in as checked baggage costs extra to the passengers. For small items, the charges are $47/€42/£37. For oversized items, the fares are $57/€50/£45.
You can take your instrument under carry-on baggage for musical items if it follows the dimension limits of 30 x 120 x 38 cm. You can easily book an extra seat for the large instruments by name and seat number.
Baggage Items Restricted By EasyJet
Make your packing confident, and it's essential to go by the list of acceptable items below. With this, you can decide what to take along and what not to consider. You can now differentiate between dangerous and not harmful things.
You can carry along 100 ml of gel or any type of liquid. You can easily pass through the security check with it. A passenger can take a maximum of 1000 ml of liquid in various forms.
Consuming alcohol on board comes under restriction, and carrying the one you bought from the airport shop is acceptable. Only 100 ml of liquid food, not the one you bring home, is okay. Check the food-bringing limit of the respected destination you will be traveling to.
You can carry a cigarette in your carry-on bag, and the quantity will be as per the criteria of the destination you are traveling to. No matches are acceptable, and lighters to carry in pockets are OK. You can't smoke any type of cigarette on board.
You can bring tweezers, scissors with rounded ends, a razor with a plastic body, and a blade under 6 cm. Rest other sharp objects are unacceptable.
Animals come under prohibition except for the ones who have human assistance.
Camping equipment, like stoves and any flammable item, comes under restriction. The fuel tank should be empty if you carry any of these items. After emptying the fuel tank, keep it open for extra fuel to evaporate.
You must pay extra for the seat to carry wedding outfits. It includes an upfront and extra legroom seat. The wedding outfits are acceptable if they can get 2-3 folds in a go. It is to fit in the overhead cabins.
The acceptable amount of dry ice on board is 2.5 kg. It is only possible if you use it to preserve your food item.
You have the allowance to carry electronic items like laptops, tablets, cameras, etc. At the security check, the electronic things will go under checking by asking you to switch the device ON. You must follow the instructions to be able to get permission to board the flight. It's essential to keep the battery of your devices full.
You can carry frozen embryos and must consult EasyJet customer service for proper guidance. It comes under the EasyJet baggage policy.
EasyJet Extra Baggage Fees
The baggage fees vary with size, weight, and quantity. The charges increase per kg if the passenger's baggage exceeds 50 kg. The Bags weight more significant than 32 kilograms will come under unacceptable bags. EasyJet baggage policy provides a list of charges increment on various passenger bags depending upon their size, weight, and quantity.
Baggage Fees For Excess Bags
If the number of bags exceeds the criteria, you must pay extra charges. The charges are applied per bag. The increase in the quantity of bags, the more the costs increase per bag. The third checked bag will be $150, and the fourth bay will charge you $200.
Baggage Fees For Overweight Bags
Any bag weighing 32 kg comes under heavy bags. The charges are according to the amount of extra weight in it. As per the increase in weight, the assigning costs are for 51-99 pounds, which is $150, and for weight 100+ pounds, which is $200.
Baggage Fees For Oversize Bags
The bags have a sum of length, width, and breadth maximum of 62 cm and come under oversize bags. The application of charges depends upon the standard size, shape, etc. The length varying from 63" to 80" is $200, and for a height going 80+ inches (charges are inapplicable).
How to add baggage to Easyjet airline?
There are two ways to do it one is adding the baggage through an online process via EasyJet Airlines Manage Booking, and the other is through an offline method. You can choose one mode at your convenience.
Online Method To Add Baggage
One of the easiest ways to add baggage to Easyjet Airlines is by referring to the official application. You can do it while booking your flight online or on the application. You can do it by online check-in. You can add the baggage if you have booked on the manage my booking page. If you do it on the manage my booking page, you only need your airline reference number. Now, you can add your extra baggage.
First, visit the manage booking section from the official site.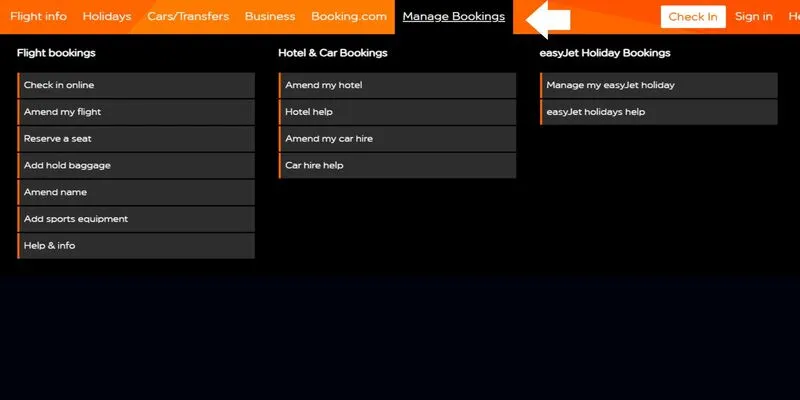 Sign in to this section by using your last name and booking reference number.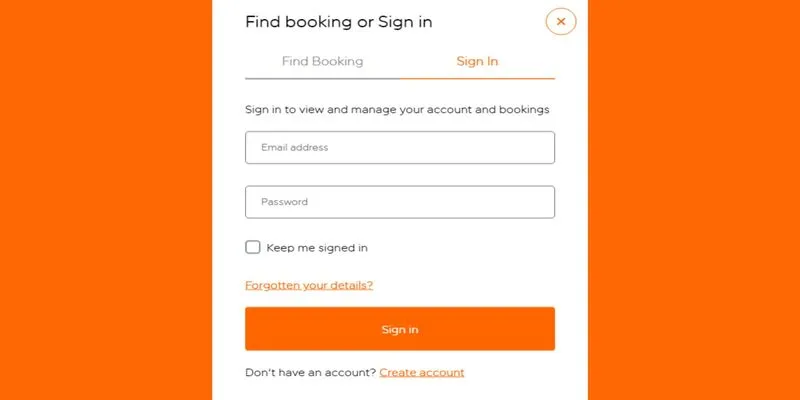 After that, you just need to choose a reservation and click on the add baggage option.
Add Baggage At The Airport During Check In
You can do it at the airport while you are checking in. Adding extra baggage will not cost much to you. Refer to the above points for clear charges per bag depending on size, weight, and quantity. If you add hold luggage to your booking, an extra bag can be added. You can contact the airline's airport team, and they will help you add the excess baggage. You can go as per the airport rules and the criteria of the respective airlines.
What To Do If Your EasyJet Baggage Is Delayed Or Damaged?
It is very annoying to find your bags delayed or damaged. There are a few policies that can be helpful for you. Here we will do all to fix the issues you are facing.
Delayed Bags Policy
If you cannot find your bag upon arrival, You can contact a member of the baggage service team. A member of the team is available at the airport to assist you. If the team member cannot recover your bag, please use our baggage portal as soon as possible to register your bag.
Damaged Bags Policy
If your bag faces any damage, we will ask you to complete a damage report at the baggage service desk within the arrival hall at the airport. The ground crew will help you achieve the damage report, and there are self-service machines where you can do the proceedings independently. Any other damages that didn't occur at the airport will be unacceptable.
Frequently Asked Questions
Can we add baggage to Easyjet Airlines after booking the flight?
Yes, you can add baggage to your flight with EasyJet Airlines after bookings. One of the easiest ways to add baggage is online or via the mobile app of EasyJet Airlines. You have another option to add on baggage via the manage booking feature or during the online check-in.
Is taking a handbag or hand luggage on Easyjet Airlines okay?
Yes, you can take a hand luggage or a handbag or EasyJey Airlines without any inconvenience. However, the maximum dimension allowed by the airline for handbags or hand luggage is 45 x 36 x 20 cm (including any handles and wheels). Also, your baggage must fit under your seat in front of you.
Do I have access to carry duty-free baggage on EasyJet Airlines flights?
Yes, you have access to bring your duty-free baggage on EasyJets Airlines flights. The airline allows you to bring one duty-free bag with your airport shopping bag along with your hand luggage. Additionally, Easyjet baggage policy gives access to a carry-on bag, umbrella, walking stick, or duty-free bag purchased from the airport.
What is the outcome of having an overweight bag with Easyjet?
According to the EasyJet baggage policy for overweight baggage is that if you are carrying overweight baggage then, you must pay the excess baggage fee of $15 per 3kg up to 32kg for online reservation. Furthermore, if you haven't booked online then, extra baggage weight will be charged at the airport at $15 per kg.
How much will we charge on Easyjet if we carry a bike?
If you are flying with Easyjet, you can fly with your bike. You must add your motorcycle to large sports equipment under the sports goods category. Also, the airline will charge you around 45GBP per flight if reserved online and 55GBP per flight if paid offline at the airport.
Is it acceptable to bring food on the Easyjet flight?
Yes, bringing your own food on an EasyJet flight is acceptable. If your food is packed in a clear container, the airline allows you to bring it on board. You can carry beverages if you buy them from the airport. However, there is a limit for liquid food such as custard or soup that is 100ml.
What is Easyjet's baggage allowance policy?
As per EasyJet baggage allowance policy, each passenger can buy up to three hold baggage. A standard hold baggage must be 23kg in weight. However, travelers can purchase extra weight in 3kg units, up to a maximum limit of 32kg per bag. In addition, if any flyer is traveling with friends or family on the same booking and flight, they can pool their total baggage allowance.
Can I take 2 cabin bags on an Easyjet Airlines flight?
According to EasyJet baggage allowance policy, all passengers can bring a small bag of dimensions not more than 45 x 36 x 20 cm, which can fit under the front seat. Also, they can get a large cabin bag of 56 x 45 x 25 cm.
Is Easyjet Airline strict with the backpack?
The airline is strict with the rules and regulations, especially baggage policies. You have an allowance to bring bags that can fit under the front seat and can occupy the overhead cabin. No more bags are acceptable at the airlines.
Does toothpaste count under liquid on EasyJet Airlines flight?
Passengers can carry 100 ml liquids, gels, aerosols, lotion, etc. As per EasyJet's guidelines for baggage, toothpaste can also be classified as a piece of liquid baggage item.
Do EasyJet Airlines measure checked baggage?
Yes, airlines measure checked baggage including the wheels and handles of the baggage. It is because suitcases need to fit in a specific space provided on board.
How much is a 23kg bag on EasyJet 2024?
According to the EasyJet baggage policy, the standard hold baggage allowance is 23kg per bag. Also the cost for 23kg easyJet hold baggage is between £9.49 and £48.00 one way, depending on the flight per period and its route.