There would hardly be anyone who would not like to receive high-class services while traveling. If you want premium services from the departure airport to the destination airport, you've come to the right place. If you want to book Emirates Business Class flight tickets but want to learn everything about it first, this guide will teach you everything from Emirates Business Class premium services to seat measurements and fees. So read all the information given below and know what is in this guide for you.
Best Amenities Of Emirates Business Class
Chauffeur Service
Passengers flying in Emirates Business Class will get free chauffeur services to pick them up from their residences and take them to the airport.
When you are in Dubai, you will be picked up by the best chauffeurs in a BMW 5 Series.
The chauffeur service is available in 70 cities.
If your flight is delayed, you can also reschedule the chauffeur service.
Lounge Access
Emirates Business Class lounges are open round-the-clock.
The Moët & Chandon Champagne Lounge serves branded champagnes and only the best champagnes.
In the A, B, and C Emirates Airlines Business Lounges, you will get to see three different areas, such as the A Health Club, which serves healthy items to eat like smoothies and salads. a dining room with extra space so that you can comfortably sit and eat your meal. A bar that serves you complimentary drinks such as beer, wine, etc.
complimentary Wi-fi connection.
Priority Check-in
When you go for check-in, the airport staff will take your bags and send them to the check-in desk for priority check-in. Following that, you will have first priority to board the plane.
Additionally, Emirates Business Class passengers will receive the Fast Track Pass.
Emirates Business Class Baggage Allowance
Only two complementary carry-on bags are allowed.
The bag's total weight, including checked bags, should not exceed 32 kg.
Emirates Business Class seat Measurement
Emirates Business Class a380
Emirates a380 Business Class seats are set in a 1-2-1 configuration that gives you more privacy.
Seats are 18.5 inches wide and 48 inches long.
It features a soft, comfortable mattress and a warm blanket that effortlessly lie down into a lie-flat bed.
Personal drink cabinets are available for each seat.
Emirates Business Class 777
Seats in Emirates Boeing 777 business class are designed in a 2-3-2 configuration.
Seats are 20.5 inches wide and 60 inches long.
The seats offer a comfy leg rest, an additional mat, and soft blankets. The seats recline nearly flat but not completely.
One amenity kit will be available, which features slippers, lip balm, shaving cream, deodorant, headphones, cologne, lotion, etc.
Price To Book A Flight In Emirates Business Class
To book a flight in Emirates Business Class, passengers will have to pay USD 4,500 for a one-way trip. Round-trip tickets will be more expensive; therefore, try to book your tickets when there are discounts available. If you are applying for Emirates Business Class upgrade through Emirates Manage Booking section, it will cost you $300 or more than this. Also, the cost is totally dependent on the distance between the departure and arrival destinations, the type of cabin class, and the type of trip.
Emirates Business Class vs First Class
Business Class
Chauffeur service will transport you from your home to the airport.
Priority check-in and priority boarding.
Lounges with complimentary drinks.
amenity kit on the flight.
Two additional carry-on bags are permitted.
First Class
Chauffeur service to transport passengers from their homes to the airport.
access to a private lounge.
complementary branded wines and delicious meals.
access to bars.
Two shower areas
Slippers and pajamas are in the amenity kit.
Step-by-Step Guide To Book A Flight In Emirates Business Class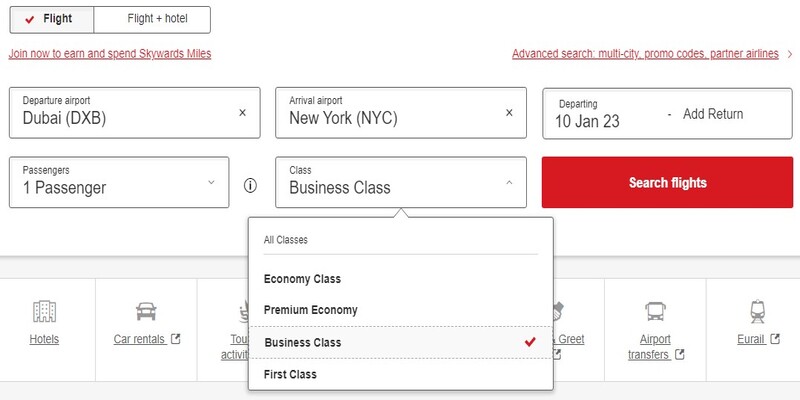 Search for www.emirates.com.
Enter the departure destination in the first text field.
Enter the arrival airport name in the second text field.
Now select the dates of traveling from the calendar.
At the top-right corner of the calendar, choose the trip type.
Click on the continue button to proceed further.
Select one of the given flights on the screen then follow the rest of the on-screen instructions.
At last, complete the process by paying the required amount for the ticket.
Frequently Asked Questions
Do you get Pajamas on Emirates business class?
Yes, Emirates provides pajamas for Emirates business class passengers. In the Emirates amenity kit, you will get pajamas along with slippers. There will be pajamas in four different sizes available for you to choose from. The pajamas you will get in the amenity kit are loose, lightweight, and made up of cotton material, which gives you a comfortable sleep.
Is Emirates business class flat bed?
Yes, the seats in Emirates Business Class get fully reclined. It can be converted into a flatbed. According to industry standards, the seats are comfortable and wide. Unfortunately, you will not be able to receive the extra legroom. Before going to sleep, you can ask the in-flight staff to make up your bed so that you can sleep well.
Does Emirates business class has shower?
The shower depends on the Emirates flight. The Emirates 777 doesn't have showers available. However, if you travel in an A380, you will find two shower suits. There will be a limited time for each passenger to use the shower and running water. Each passenger has only 30 minutes to use the showers.
What freebies do you get on Emirates Business Class?
At the airport lounge, you will be able to avail yourself of complimentary food and drinks by creating your own menu. As the charges are included in your flight ticket, you will not need to pay the extra charges. There are complimentary drinks, delicious food, and a travel kit that includes a toothbrush, shaving cream, moisturiser, lip balm, slippers, pajamas, and other items. You can also order free drinks and snacks based on your preferences and at any time after the flight takes off.
How long can you stay in Emirates Lounge?
Before your flight, you have 4 hours to take advantage of the amenities of the Emirates Airlines Business Class Lounge. If you arrive at the airport 4 hours before your scheduled flight, you will be denied access to the lounge.
Is alcohol free in business class Emirates?
There will be a big list of the available varieties of drinks, including alcoholic and non-alcoholic drinks, that you can order from the menu. As all the amenities are included in Emirates Business Class, you don't need to pay for drinks.
Can I sleep in airport lounge?
To get into the lounge, you must have a day or night lounge pass. If you have a lounge pass, then only you can enter and enjoy the showers, drinks, food, and a private space to rest for 4 hours. In the lounge, you can sleep on the lie-flat beds, but for a limited time.
Is Emirates Business lounge worth it?
Yes, the Emirates Business Lounge is unquestionably worthwhile. When you get inside the Emirates Business Class Lounge, you will see different sections, including a champagne bar, a health zone, a Costa Coffee stand, a food court, etc. You can sit on comfortable seats and order anything you want from the menu without paying any charges.